TARA (ORIYA FILM) SYNOPSIS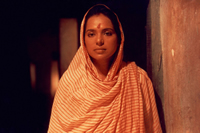 TARA the daughter of a poor priest living in a remote village in Orissa, is sold off as a bride to an apparently well off stranger, SHYAMACHARAN. Shyamacharan, a practicing Tantrik initiates Tara into the rites of Tantrism, who pursues it seriously and evolves spiritually. Tara gradually discovers that her husband is a small time crook. However Shyama falls in love with her and wants to change for the better, so he decides to sell his property and start a business elsewhere, where he'll not be recognized as a thief and harassed by the police.
SANATAN DAS, a philanthropist and a social worker of reputation, runs an Ashram (Home) for destitute women and is a prospective buyer of Shyama's land. But Shyama is keen to sell his property to a petty contractor for a better price, even though the latter has an eye on his wife. Tara misunderstands Shyama and thinks that he is trying to prostitute her. So she leaves him and seeks refuge in the Ashram. She is highly impressed by Sanatan's moral values and wide knowledge, but one day she discovers that he is as weak as any ordinary man. Disillusioned, Tara returns to her husband. A repentant Sanatan comes to Tara to apologize, but she refuses to acknowledge. The next day he is found dead! The police declare it a case of suicide by drowning. Tara is moved by his greatness.
One morning, she is discovered in a trance sitting near the Kali temple of her father's village. The villagers deify her. Shyama, grabs the opportunity and basks in the glory of Tara's fame. One day in the midst of a celebration, where Tara is being worshipped as the Goddess Kali, the police arrive to arrest Shyama for Sanatan's murder. A visibly shaken Shyama pleads with Tara to save him but she refuses. Enraged, he destroys her. Does Tara die or achieve NIRVANA?
TARA CRITICS' REMARKS
"Another good feature was the recognition of films not shown in the Indian Panorama. For instance Bijoya Jena's 'Tara' (Oriya), a very sensitive study of a woman's betrayal and disillusionment. Jena's portrayal is notable as is that of Moloya Goswamy who got the Best Actress Award in 'Firingoti'. In fact these two performances are among the best in this year's national films."
- Lt. Iqbal Masud
(Noted Film-critic)
Indian Express Sunday Magazine, April 19, 1992
"She was singled out for special mention at the National Film Awards in the capital by the chairman of the jury, Adoor Gopalakrishnan, for her impressive debut, as producer-director and as lead actress in the film 'Tara', which went on to win the National Award for the Best Oriya Film. The citation spoken of was "the sincerity in the film, of truthfully portraying a woman's search for her identity, in a male-dominated society…"
- Lekha J. Shankar
Femina, July 8, 1992
TARA DIRECTORS' NOTES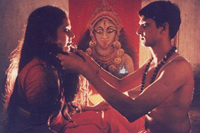 TARA my first feature film in the Oriya Language, was made in a shoe-string budget of approximately US $ 20,000/- borrowed from different sources - family, friends and Government Agencies, which was shot in 16mm with very few lighting equipment (no HMIs or Arc-lights) and no Make-up, Hair-Dressing, Costumes and Camera Assistants.
The film went on to win the Best Oriya Film at the National Awards and I was nominated for the Best Actress. The Jury Chairman at the National Awards, Mr. Adoor Gopalakrishnan mentioned my name at his presidential speech one of the few upcoming future directors of the country.
Since it was my debut film and being an independent producer, I entered the film in the Competition Section of the Festival International Du Cinema Au Feminin, September 1992 and the Cairo International Film Festival (Information Section), Dec'92. Soon after in 1993, I tried to enter the film in the forthcoming Director's Fortnight Section in Cannes. The Festival Authorities liked my film and recommended the film for participation in Cannes' Critic's Week, but as per Cannes' rules, since my film had participated in another Film Festival in France, it could not qualify for participation in Cannes.
At the Festival International Du Cinema Au Feminin, held in Marseilles, after the screening of my film, there was a general question-answer session for the public. The greatest compliment I got was from a 65-year-old lady who said that she found the atmosphere of the film as that of a Satyajit Ray film. Yves Thoraval, film historian and film critic for Le Monde, after seeing the film asked me to convey his best wishes to the main actress of TARA. When I informed him that it was I who had played the title role, he was astonished and remarked that - "it's a brilliant actress who can achieve a personality on screen which is so far removed from the real self."
ABHAAS (PROLOGUE - HINDI FILM) SYNOPSIS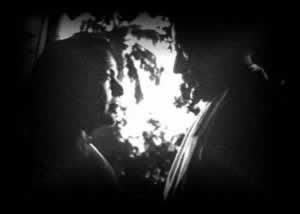 Orissa - 1955 - A crumbling feudal structure. but the trappings of former pomp and glory is yet visible.
The story revolves around RAY, the erstwhile Lord of Bishnupur KOKILA, a young widow and distant cousin, given shelter in the Ray household; and CHANDRA an adopted brother of the Lord who is a dreamer and a budding poet. He is also an ardent admirer of Kokila.
Ray, the progressive-philanthropist, one evening, in a moment of weakness imposes himself on Kokila and seduces her! The sole witness is Chandra, who is paralyzed with fear and cannot react! Later, Kokila pleads with Chandra to elope with her - he develops cold feet and refuses. A pregnant Kokila undergoes a primitive abortion, which leads to her death. A police investigation takes place, where Chandra is implicated and jailed. Ray is now haunted by his guilt. He tries to atone for his sins, but the pangs of guilt lies too heavy on his heart. On the other hand, Chandra embraces his sufferings with equanimity and evolves into a 'Sufi' poet.
Years pass. Ray's maternal grandson, the sixteen year old RABI returns to his grandfather's village after many years of studying abroad. One day, the sudden appearance of a saffron-clad hermit creates a stir in the village - it is none other than Chandra. Rabi cannot believe that Chandra Uncle, a man of vision and goodness could be responsible for his dear Kokila Aunt's death. Whatever be the rumors, Rabi and the rest of the world would never know the true story….
ABHAAS CRITICS' REMARKS
"Bijaya Jena's ABHAAS is a fine original film, The moral decline of the Silent One and the moral elevation of the prisoner makes this realistic film a notable moral fable."
- Lt. Iqbal Masud (Noted Film-critic)
"Thematically a good transfer of a story onto film The atmosphere is as if from a Sharat Chandra novel."
- Gautam Kaul (Critic)
"Bijaya Jena's ABHAAS is a quiet film; impressive in its persuasive charm, it is unhurried in pace and perceptive in treatment. One of the strengths of the film is actor Murali's performance in the role of the master of the house who is persecuted by an obsessive sense of guilt to which he eventually succumbs."
Adoor Gopalakrishnan (Film-maker)
ABHAAS DIRECTORS' REMARKS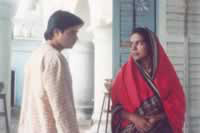 I have been inspired by Russian literary giants namely Dostoyevsky and Turgenev. To quote F.M Forster - No English novelist has explored man's soul as deeply as Dostoyevsky. The film is essentially about strengths and weaknesses about guilt complex - about Human evolution.
A fleeting moment of weakness can be fatal. Man doesn't change. It is only annihilation which can bring about the change - for better or for worse!
IN THE PIPELINE... THREE NIGHTS OF A DREAMER
THREE NIGHTS OF DREAMER
THREE NIGHTS OF A DREAMER (Language - English) is my next project adapted from Dostoyevsky's 'White Nights' - a romantic story with a political hint. It requires a budget of about One Million US Dollars to film it.
Professor Dragan Milinokovic from Serbia is collaborating on this project. We have confirmed two noted European Actors. The film has all the ingredients of the Latin vista including the Serenade and the Portuguese Qurrodinho dance forms and the flavour of Old Goa in an era, which has long disappeared.
IN THE PIPELINE... GOAN SONATA
GOAN SONATA
GOAN SONATA or REFLECTIONS (Language - English) is another project that I have been working on for some time.
It is set in the backdrop of Goa during the Portuguese rule just before the liberation when the underground resistance movement was at its peak. The male protagonist is an English writer, and the film essentially deals with human relationships at this troubled times of military brutalities which is seen through the eyes of the English writer .
The film will explore the Goan ambience - its cultural synthesis of Portuguese and Indian ethos, its churches, music and its Baroque art. It also has an international and multicultural ambience with British, Portuguese and Indian characters. I've had the honour of having the noted Hungarian maestro, the late Mr. Istvan Gaal as my script-advisor. I will have internationally acclaimed actors and technicians from USA and Europe. The film is a pre-liberation saga and requires a budget of US $ 5,000,000/-